Workouts In High Heels Really Pump It Up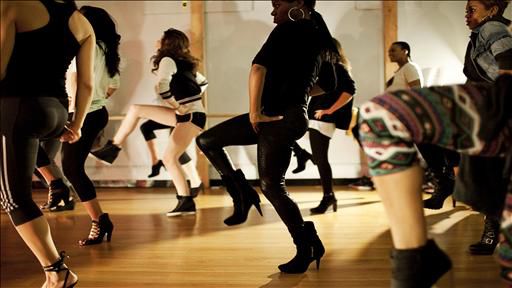 Hip-hop dancer Kamilah Barrett has created Heel Hop, a workout class designed to improve women's confidence and strength in high heels. The Wall Street Journal attended one of the classes in Los Angeles to see what it takes.
LOS ANGELES—About 30 teen- to middle-aged women packed into a second-floor dance studio near Beverly Hills, dressed to sweat. One by one, the women removed the flats or tennis shoes they had arrived in, slipped into high heels and teetered back to their feet.
Some strappy, others colorful, sophisticated, chunky, or wedge-style, the heels are required footwear for this class—Kamilah Barrett's "Heel Hop" workout.
"I'm not a heel person, but it kind of got me out of my shell," said Saadiqa Muhammad, a first-time attendee from the San Fernando Valley. "Having those heels on brought out something extra."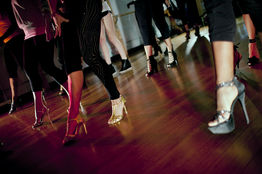 These Heels Were Made for Sweating
That's the idea, according to Ms. Barrett, 34 years old, who developed Heel Hop to target the muscles that support a "relaxed" stance and fluid movement in high heels.
"Heels are really a sport," she said. "If you're spending so much money on these heels, why not know how to work them?"
While women have long danced in heels, Ms. Barrett's classes are part of a trend in exercise regimens that focus as much, if not more, on the footwear as the footwork.
Of course, many experts—and common sense—warn that wearing high heels for extended periods can increase the risk of injury. In a recent study, researchers at Griffith University in Queensland, Australia, and the University of Jyväskylä, Finland, found that high-heel wearers experienced "alterations in muscle-tendon architecture," which led to fatigue and strain. Chris Carty, one of the authors, said it is hard to assess whether working out in heels is more dangerous than simply walking in them, "beyond the risk of falling due to a reduced foot contact on the floor."
The Crunch Fitness chain of gyms offers classes called "Stiletto Strength," which require attendees to "bring your own heels." The class aims to strengthen the legs, abdominals and back to support posture in heels. It also incorporates an aerobic portion where students "go into 'work it girl' mode," the company says.
There are others who teach versions of high-heeled exercise, such as Stiletto Fitness in Kansas City, Mo., and Vegas Stiletto Fitness, which offers instruction in Denver, Las Vegas, St. Louis and several Texas cities.
Some kick off the heels. Emily Splichal, a New York podiatrist, "human-movement specialist" and high-heel enthusiast, created a program called "Catwalk Confidence," to help people walk in heels. She describes the series of classes, which has sold about 5,000 DVDs in its three years of existence, as "vertical Pilates." She is adamant her classes be taught and taken in bare feet.
"You can build a lot of body awareness and agility without being in heels," Dr. Splichal said. Wearing heels during a workout "is probably the worst thing you could do."
Ms. Barrett argues that her "no impact" classes prepare women to avoid maladies. "Heels aren't going anywhere," she says. "If anything, they're getting taller, and they're getting thinner." Heel Hop, she hopes, will help women build the muscles to avoid ugly "spills."
Kim Kline, a singer-songwriter who has taken the class, said she owns several pairs of shoes that are "gorgeous fashion statements," but is reluctant to wear them because she feels off-balance. Heel Hop's emphasis on shifting weight to the balls of the feet, Ms. Kline said, helped her feel more stable.
"You realize the weak points of the body and how fragile the ankles are, and you're strengthening that," she said. "I really did notice it immediately."
The typical hourlong Heel Hop class, which costs $15, begins on a yoga mat. Ms. Barrett demonstrates what she calls her "signature sit-up" in heels. In order to walk properly in heels with the correct weight distribution, she says, "It all comes down to right here: the core."
After a few sets of sit-ups, the women, dressed in gym clothes, roll up their mats and line up behind Ms. Barrett, facing mirrors. Using a selection of hip-hop songs that are "positive and sexy," the class begins simply and works up to a sweaty, hip-twisting, shoulder-shaking finale, followed by a cool-down.
Then comes the "Walk it Out," where the students, one at a time, walk diagonally from one corner of the room to the other.
"Get it girl!" Ms. Barrett shouts as one student steps up with a smile and a shrug. "Fierce!" she compliments another woman with a determined look on her face. The group applauds as each student struts by.
Ms. Muhammad said she felt "kind of awkward" walking by herself in front of the rest of the class. But another first-timer, Celeste Curtis, 43, said, "I loved that little ending part."
Ms. Curtis said she lifts weights and takes classes regularly at her gym, but this was different. Walking like a "supermodel," placing one foot directly in front of the other, she said, "I'd never actually done that—obviously, because I've never been on a runway!"
In a recent study, Paul Morris, a psychology professor at the University of Portsmouth in England, found that wearing high heels led to "higher attractiveness ratings" by both male and female observers, but the higher of those ratings were cast by women. "Women rejoice in their femininity without men being present," Dr. Morris said.
Ms. Barrett, who grew up idolizing Tina Turner and Prince, recalls putting on her mother's heels and dancing in front of the mirror. A hip hop dancer and choreographer, she appeared as a contestant on the first season of Fox's "So You Think You Can Dance." She has toured with musical acts and was featured in music videos—in heels—with artists like R&B singer R. Kelly, rapper 50 Cent and others.
She wants her brand of "heels, women's empowerment, sexiness, fitness" to go global. She's given classes in Russia and Japan. China, she says, is next.
On a recent day, all five members of music group Rebel City were at Ms. Barrett's class. Singer Jana Thompkins said she sought Ms. Barrett's help with stage presence and choreography. The group performs primarily at high schools, delivering an anti-bullying message via pop songs, raps and dance routines.
When performing in a daring pair of shoes, Ms. Thompkins said, "You want to put your best foot forward."
Write to Erica E. Phillips at erica.phillips@dowjones.com