Foot Wear
Vionic's unique motion controlling footbed features a contoured arch and deep heel cup that realigns your stride and helps relieve foot and lower body pain.
Clinically proven to reduce excess pronation.
Podiatrist-designed, biomechanical Tri-planar Motion Control footbed with a deep heel cup helps stabilize, support and realign the feet back to their natural position.
Lightweight, flexible medium-density EVA midsole absorbs shock, reducing stress on feet, ankles and knees.
Some common problems these are used for are Aching Feet and Legs, Plantar Fasciitis, Heel Spurs, Archilles Tendonitis, Metatarsalgia, along with many Lower Leg and Knee pathologies. They can also have some positive results with some lower back pathologies.
They are great when it is not suitable to wear your supportive shoes or your orthotics. Perfect for those that wear orthotics in their shoes but just want something more open to wear casually.
Archies Thongs
Archies Thongs look just like 'normal' thongs, yet provide the same amount of support of a typical orthotic, providing comfort beyond what is thought possible in a regular thong.

This is why Archies Thongs are the choice for many of Australia's elite athletes and recommended by thousands of Australia's leading Physio's and Podiatrists.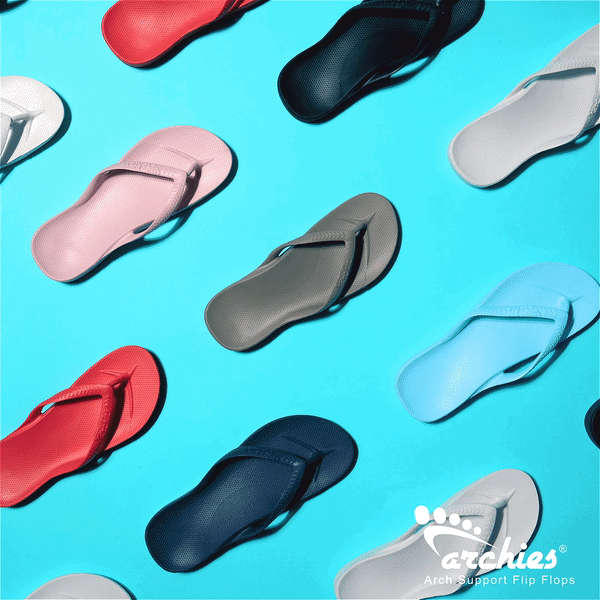 Vionic Islander Thongs
Built in orthotic midsole
Cushioned EVA midsole and rubber outsole
Soft woven toe post and a foam-lined strap with leather trim for all aspects of comfort and durability.
Deeper heel cup which aims to help support and stabilize the foot.
Durable TPR outsole with patterned tread helps improve traction.

Womens Sizes 5-12
Mens Sizes 7-14

Revere Sandals
We also stock a great range of Revere sandals – including the Miami, Geneva and Bali styles (pictured from left to right below).

All 3 models have fully adjustable supple leather straps and the option to add strap extenders on if required to help in achieving the perfect fit! Both the Geneva and Bali have a padded heel counter to keep your heel secure in the sandal, while the Miami has an open back for those who prefer this style.
Revere sandals have a removable PU insole which is soft yet durable, and can of course be removed to make way for your orthotics for the perfect fit! Last but not least, the outsole of the sandals have also been constructed to have slip resistant properties – what more could you want!
Appliances
Pedi Roller
Relieves heel and arch pain
Plantar fasciitis & heel spurs
Can be frozen
$15
TuliHeel Cups (heavy duty)
Protects your heels
Cradles heel and absorbs shock
Plantar fasciitis, heel spurs, Achilles tendonitis, shin splints
sizes: regular & large
$40
Chiropdody Sponge
Heros stone (coarser than pumice stone)
Removes painful corns, rough skin and ugly calluses
Lasts for months with regular use
$6
Ankle Brace (AFTR)
Rigid stirrup straps to provide stability
Prevent inversion and eversion
High level compression
Controls swelling and resuces pain
Use to improve recovery time, prevent sparains, arthritis
$90